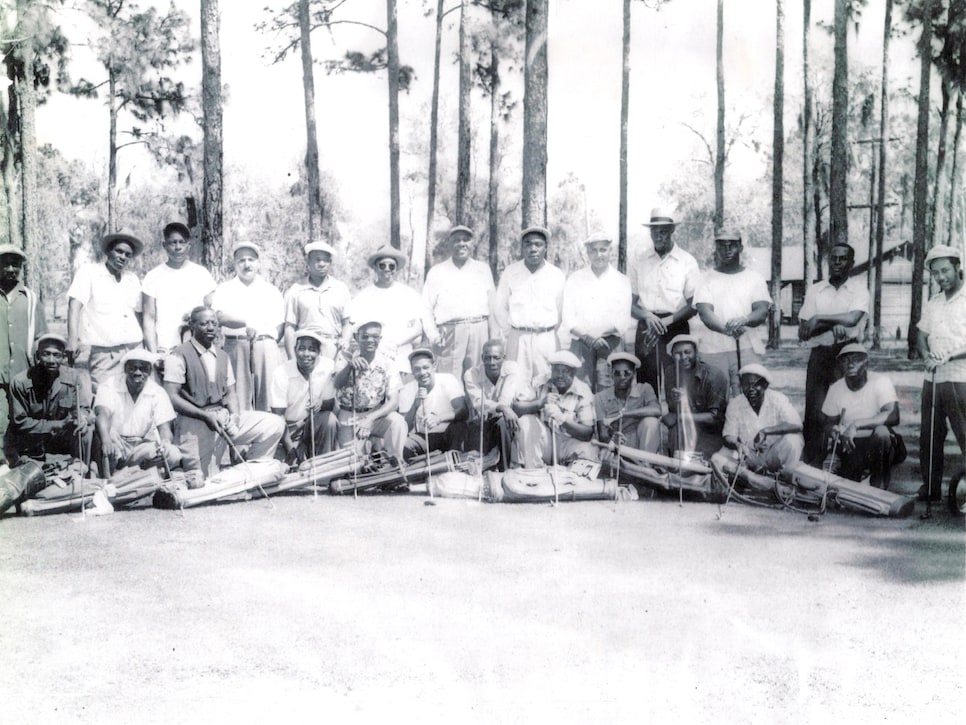 The caddies and golfers who built Rogers Park
It's a bright Martin Luther King Jr. Day in Tampa, Fla., and Lionel Ballard is showing me the future of Rogers Park, one of America's most historic golf courses. Ballard, a 70-year-old retired construction manager, wears his gray mustache wide and his blue baseball cap low. He parks our cart along a freshly dug fairway behind a fence. The hole is part of a par-3 short course opening next month. Ballard spends his days, and many nights, volunteering as the community outreach director for The First Tee of Tampa Bay, which Ballard helped launch in 1999. (The chapter has become the largest in the country, serving about 70,000 kids annually.) After learning to play at Rogers Park as a child, Ballard hopes the new nine-hole beginners course will be an entry point for a new generation. "Once the kids get certified and are able to understand the game, they'll move out on the championship golf course," he says, "because Rogers Park can be a demanding course for a kid to play."
Ballard understands the powerful demands—and promises—of these 160 riverside acres. He grew up during segregation when he and other Blacks throughout the South were prohibited from playing in city and private clubs. A kid like him couldn't aspire to join the Professional Golf Association, which had a whites-only clause in its membership by-laws. However, in 1947, a group of Black caddies from Tampa's exclusive Palma Ceia Golf and Country Club, which included Ballard's uncle, hatched a seemingly impossible plan: to transform an old patch of land near the city dump into a golf course. To succeed, they had to do more than clear brush, wrangle gators and dig cups with dinner spoons. They had to overcome Tampa's powerful mayor, Curtis Hixon, who had built his political career by disenfranchising Blacks.
Determined to keep the inspiring saga of "The Park" alive, Ballard has spent the past two years knocking on doors, visiting nursing homes and pouring over old photos to record the community's memories before they're lost. It's the basis of a recently published photo history he co-authored called Rogers Park Golf Course: 18 Holes of History.
Telling the story now has taken on a new importance. Last month, Florida Gov. Ron DeSantis stopped a new Advanced Placement African-American studies course from being taught in high schools, claiming it violates state law and "lacks educational value." For Ballard, the situation makes the lessons of Rogers Park more urgent, despite the governor's actions. "He is not going to stop me from teaching my grandchildren history," Ballard says, "They may not learn in the school, but they going to learn in my household. How he gonna stop that? What is he so afraid of? People knowing the truth?"
Lionel Ballard's version of a fairway as a kid was the street outside his house. He wasn't the only one. Restricted from playing in local clubs, Blacks resorted to playing through the backwoods or around their neighborhoods. Equipment was almost impossible to come by. They used tobacco sticks for clubs and dogwood tree bark for putters. The caddies at the fancy private clubs like Palma Ceia didn't have it much easier. When Ballard's uncle M.C. Wilder received a set of clubs from a wealthy player, he shared them with the other caddies. "Everybody didn't have clubs," Ballard says, "so they'd all get clubs out of the bag."
In 1947, Willie Black, one of Wilder's caddie friends at Palma Ceia, said it was time they had their own club. From a young age in Georgia, where his uncle was a greenkeeper, Willie Black played golf wherever and however he could. He was respected not only as a fierce player, but as a political activist who helped Blacks register to vote and get to the polls. He knew the political winds were shifting in a way that might convince the city to give them space for a golf course.
Tampa business leaders and golf enthusiasts who were instrumental the building Rogers Park.
A few years earlier, the U.S. Supreme Court had issued a landmark ruling banning political parties from restricting voting rights. Throughout the South, the Democratic Party had established local political groups that prevented non-Whites from voting in primaries, and thus excluded them from general elections. In Tampa, the city's White Municipal Party elected every mayor since 1910, including Curtis Hixon, who was running for his third consecutive term. Despite the Supreme Court's ruling, Hixon had refused to dismantle the White Municipal Party, but he had reason to court the Black community.
"There had to be new appeals to African Americans to some degree to get their vote," says Tampa historian Gary Mormino. Willie Black saw a way to capitalize on this. During a fish fry for voters sponsored by Hixon, the caddie asked the mayor if he would support a golf course for Blacks if he were to win again. Hixon promised and, after winning his third term, delivered.
The mayor had recently designated an overgrown patch of land along the Hillsborough River as the first public park for Blacks. It was donated by and named for local community and business leader G.D. Rogers. But Willie Black and the caddies would have to create the course, from the ground up, entirely on their own. Before long, more than 60 volunteers were working through the humid days and hot nights, the stench of the nearby city dump filling the air, to clear the cypress trees and grade the unforgiving land. Working with local Black businesses, the group got the city to truck in extra sand from road construction to build out their course. They shoveled bunkers and dug out cups with their dinner spoons and rusty tin cans.
The Florida climate was harsh enough without the threat of the wildlife. Poisonous water moccasins slithered along the shore, followed by the occasional alligator, hungry for lunch. "They had to fight off the snakes and everything to build that golf course," Ballard says. The builders were driven by a common mission and a greater dream personified by Willie Black. "I remember seeing Willie Black stand on that big hill on No. 6," the late golfer Eddie Smith Jr., one of the caddies who helped build Rogers Park, said to Ballard. "It was like he was on a mountaintop. He was like John Wayne, Big Jake, surveying the area all alone in the sunAfter five years, Rogers Park Golf Course was finally ready to open in 1952. By then, the fight for Black golfers' rights had become mainstream news. In January, Bill Spiller appeared in a famous photo seated defiantly on a bench by the first hole of the San Diego Open after being ruled ineligible by the PGA because of his race. Soon after, while playing the first hole of the Phoenix Open, a foursome, including legendary golfer Charlie Sifford and heavyweight boxing champ Joe Louis, discovered that someone had filled the cup with human feces. With the crowd and cameras watching, they had to waited more than an hour until someone came to replace the cup. Then they continued playing.